Bringing Hollywood Style to Georgia: A Calabasas Rocker in Cumming
ZinglemanRealty.com: Phil Mappe October 19th, 2020
Joining the eastward migration, a Calabasas rocker is bringing Hollywood style to Georgia.
Recent years have seen a trend of people gravitating towards Georgia from states like California and New York.  Many come for the lower taxes, relatively affordable housing, low cost of living, or just to be closer to family.  According to ABC10, nearly 700,000 residents left California in 2019, and the trend has continued into 2020.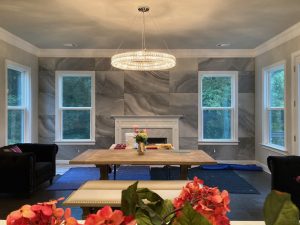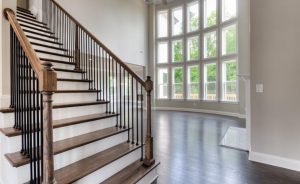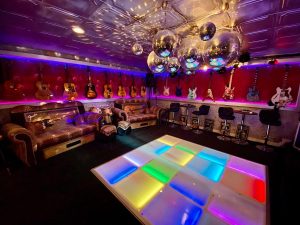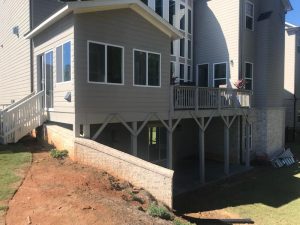 "We've seen a significant increase in Georgia real estate from California in the past few years," says Alina Zingleman, a broker who has sold real estate in Georgia for more than 20 years.  She adds, "they come for a variety of reasons, but Georgia's reasonable housing prices are a common theme."    One such client was "Rockin'" Dave Spiller.
You can take Rockin' Dave out of California, but...
Rockin' Dave Spiller is renowned in L.A. for his over-the-top Super Bowl parties that would often draw hundreds of guests.  Going beyond the usual cold beer and seven layer dip, Rockin' Dave completely transforms his home into a football party paradise.  When Dave joined the eastward migration in 2019, he did not want to leave his 20+ year tradition behind.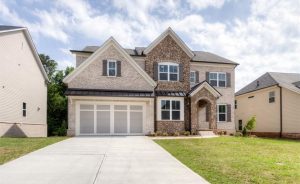 In 2019, when Dave bought his more than 5,000 sf home in Cumming, Georgia, he set to work immediately transforming the already beautiful home into a representation of his own personal style. Dave, who has spent the last few decades doing high-end renovations to some of southern California's most beautiful homes, had a very tight deadline. He was hosting the first Georgia edition of his epic Super Bowl parties in a few months, and the home needed to be perfect.
Kitchen and Living Area Remodel
Kitchens are often the focal point for most home entertainers. Dave converted his builder-grade kitchen into an entertainer's dream.  A new fireplace and mantle add to a bright and open floor plan.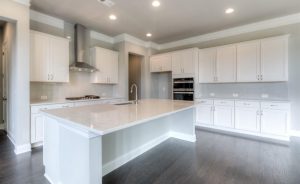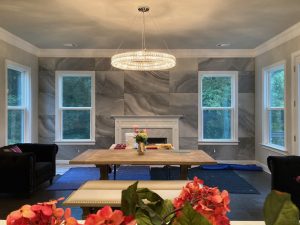 The bathrooms in Dave's new home were already nice, but they didn't match his personal style. Top quality tile and high-end fixtures made for an amazing transformation.

Be ready for the party to move outdoors. Adding more deck space, a screened-in porch, lights and sound, and a hot tub greatly expanded Dave's entertainment area.
Most renovations stop at the kitchen and bathrooms, but Rockin' Dave was far from finished. The coup de grace of the home renovation project was converting his unfinished basement into a full-blown nightclub.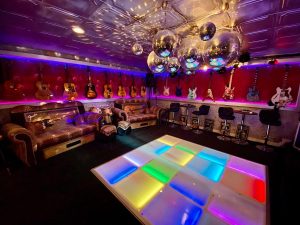 No rocker's home is complete without a stage. For lighting, Dave added stage lights, hundreds of lasers, and disco balls. These illuminate a band stage and a large lighted dance floor. 4000 watts of ear-splitting sound and a full bar complete the package.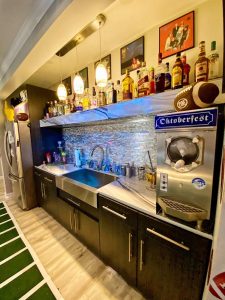 In just a few months, Rockin' Dave Spiller completely transformed his home from standard suburban fare to his own brand of Hollywood style.